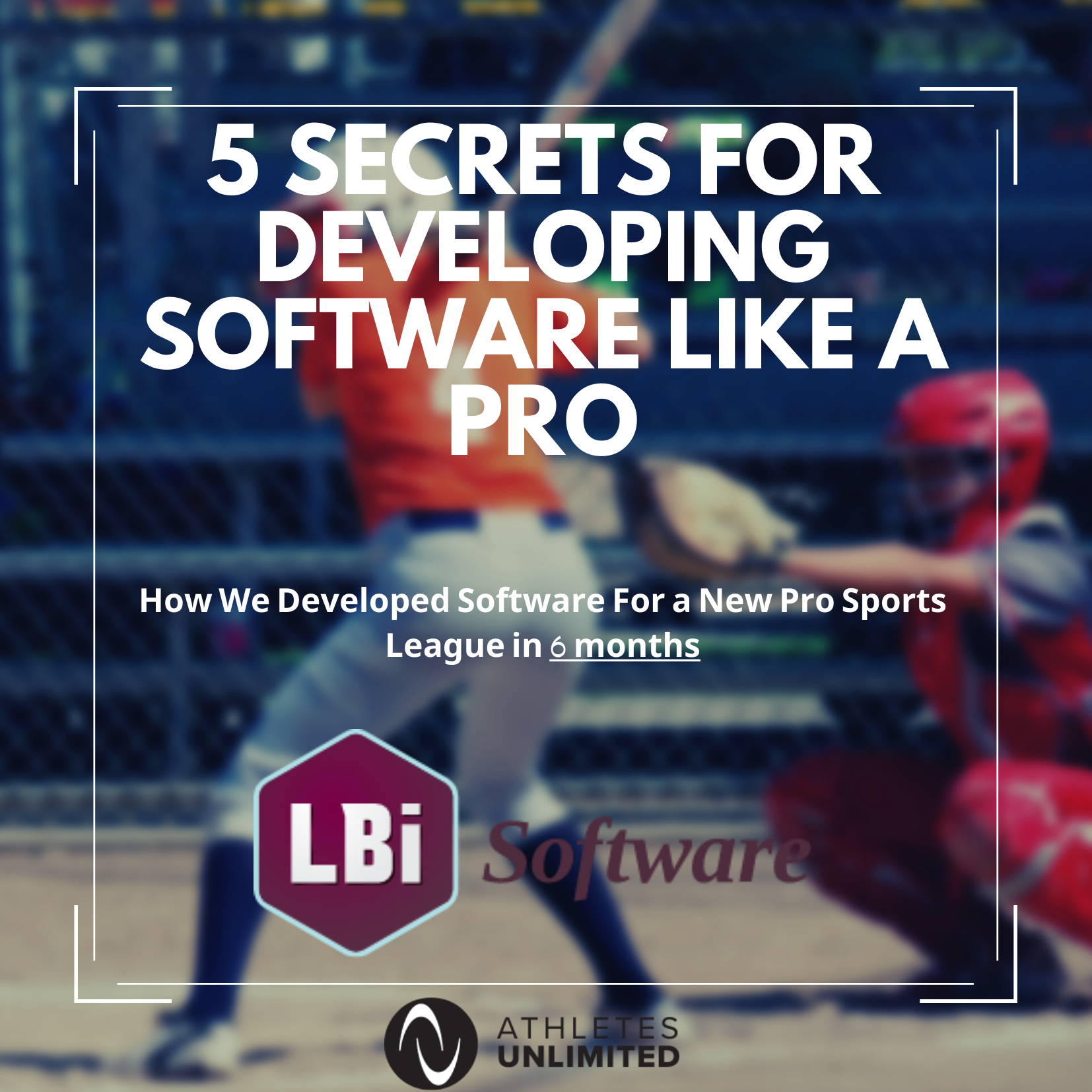 How We Developed Software for a New Pro Sports League in 6 months
The Story
It was April 2020 and LBi Software was very happy to have landed a new client! Athletes Unlimited (AU) is the new sports league on the block. They describe themselves as, "A network of new professional sports leagues where athletes compete in fantasy-inspired games in softball, volleyball, and lacrosse."
We are one of the leaders in the sports software field. We have done pivotal work for high-profile clients like MLB, NBA, NFL. We have also developed proprietary software for six different MLB teams as well as several teams from the NFL and NBA.
Creating software for a new sports league was something right up our alley. Little did we know, within one month of signing this new contract our office would be closed due to COVID-19. We had no idea if fans would be in the stands for games. Would fans want to tune in to a new sports league during a pandemic? With everything going on in the world there was a lot of uncertainty.
1. AWS
Amazon Web Services (AWS) is one of the leading cloud service platforms (CSP). We leverage their services for hosting a number of our applications. They offer fully managed services that allow teams to focus on building products rather than deploying and maintaining hardware.
AWS utilizes a shared responsibility model. This offloads many of the responsibilities involved in managing infrastructure for building web applications. AWS is responsible for the security "OF" the cloud. We are responsible for the security "IN" the cloud. AWS plays a pivotal role in our ability to develop highly available and reliable web applications.
2. Containerization
One thing that helped reduce our uncertainty was utilizing the powerful tools of AWS. We choose to go with AWS Elastic Container Service (ECS) to deploy a number of microservices. This was a seamless process. Many of our web applications had already been containerized using Docker. This allowed for zero-downtime deployments which were a real game-changer for us. This feature gives us the ability to deploy new software without having to notify all the users.
Containerization is something that has really improved the developer experience (DX) at LBi Software. Docker has significantly improved the onboarding process between projects. You can now switch between projects or microservices in a matter of minutes. This is especially useful for some of our older projects that require older versions of software such Angular, Node.js, or Gulp.
Read More