Baseball Draft Time!
Apps and Analytics for Better Decisions
It's that time of the year again! The MLB Rule 4 Amateur Player Draft is around the corner. It is scheduled to start on Sunday, July 11, 2021. I would like to take the time to spotlight some of the most useful features.
The LBi Dynasty Rule 4 Draft Application is our flagship baseball product. The draft app will consolidate years' worth of scouting and analytics data into one place to help plan for and execute the best draft possible. It has become a pivotal tool for our MLB clients.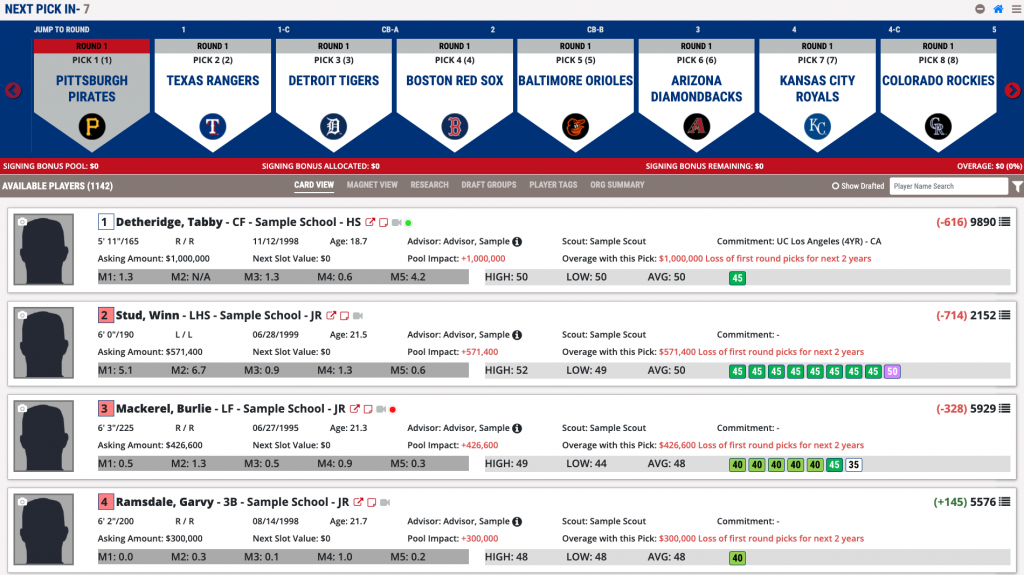 Day 0 – Seamless Migration
I cannot emphasize enough how EASY it is to get started using our Draft Application! All we need is an extract of your expected player population. We migrate ALL your data! We set up extract/transform/load (ETL) procedures to transfer your data into our application on a regular basis. This means you can continue to use your existing scouting application while the important aspects will be synced into your personal draft application.
Day 1 – Complete Customization
After your players are in your new application it is time for the fun part, customization! Your scouting and analytics teams have been working hard to gather statistics, evaluation grades, notes, and model grades for the upcoming draft – how do you want your virtual draft magnet to look?
Once again, we make this process as EASY as can be. You can provide your own draft magnets! This will determine what is displayed in your application. Our designers will provide mockups for your review. We will iterate on them until we get them just right.
We have 15+ years of baseball analytics expertise. We can migrate your data and display it in your app in a uniform fashion. Your draft application will be consistent with the look and feel of your other applications.
Day 2 – Detailed Planning
All your players and data are in your Draft Application! It's time to start planning. We have facilitated many different ways for you to prepare for your draft. We have insight into how the BEST prepare for the draft.
Draft Queue
The simplest way to prepare for the draft is a single list of players. Here you rank all your players on how you think they should be drafted; we provide different views of this list:
Card View – detailed information about each player (custom to your organization)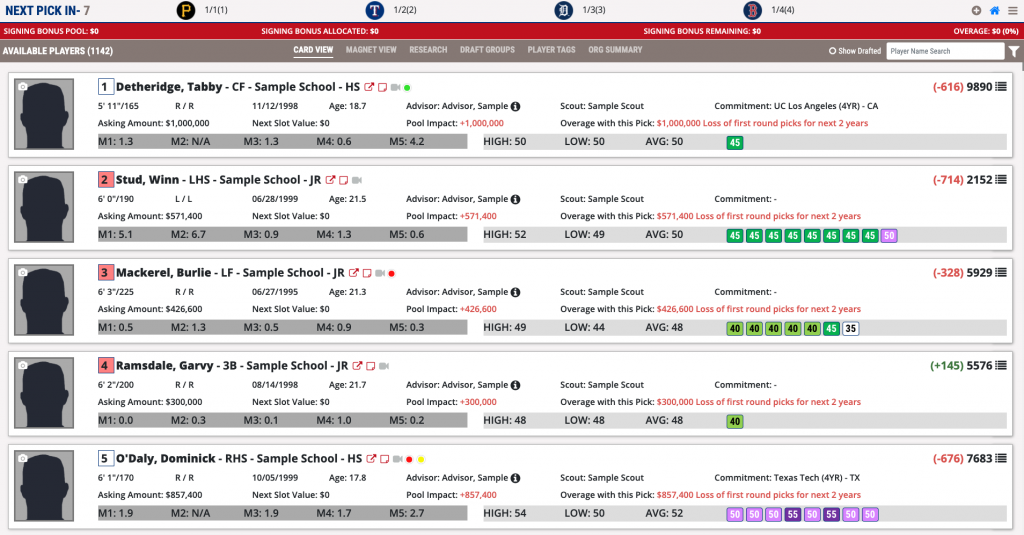 Magnet View – designed to replicate the view you have in your draft room displaying 120 players at a time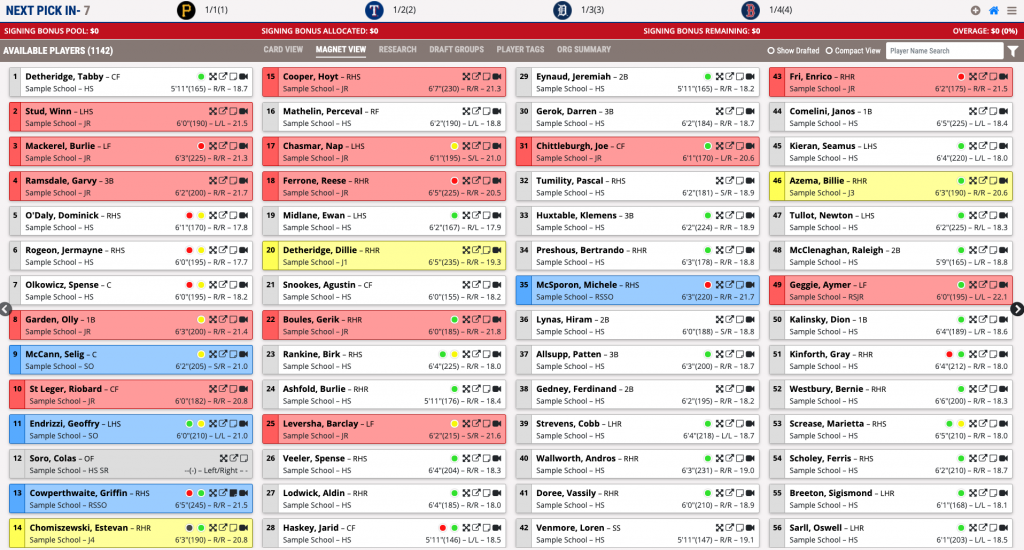 List View – allows users to update key information in the app such as signing bonuses or a custom list of flags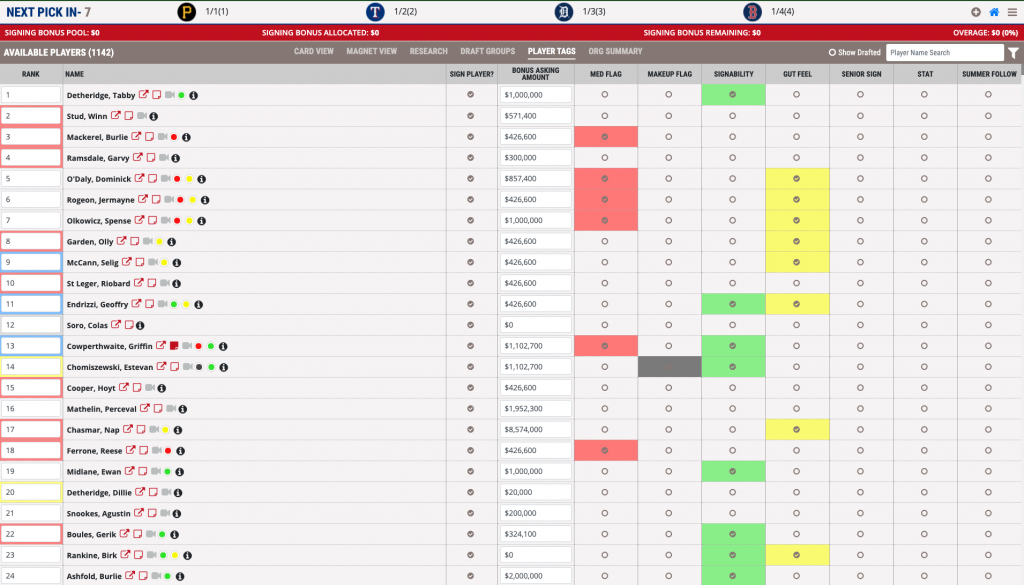 During the draft, the list will begin to shrink as players come off the board. Gone are the days where someone needs to remove and re-rank all your draft magnets!
Draft Groups
A very popular technique in preparing for a draft is creating groups of players. We have developed very powerful grouping features. Users are able to create as many groups of players as they would like. You can customize which groups are displayed at any time.
Once you have created a group, you have the ability to share the group! This has saved our clients an incalculable amount of time! This gives scouting directors the ability to get insights. They can see how other scouts, cross checkers, or analysts rank the same set of players. Adding players to a parent group will propagate changes to all other child groups. Create, share, delete groups with the click of a button!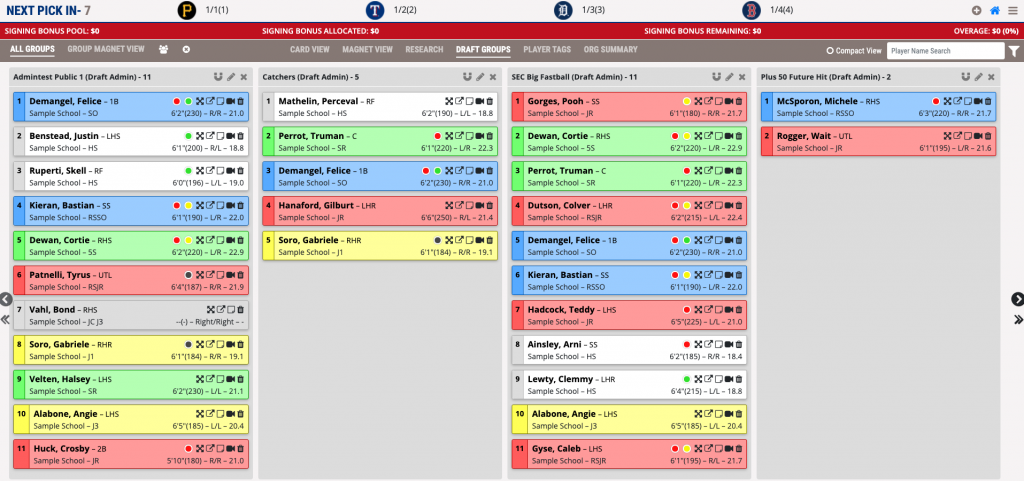 Day 3 – Business Intelligence
No player-based application would be complete without analytics! We have built the most powerful tools in the industry. Using ANY custom piece of data in your application we can aggregate dynamic player lists based on your data. We have integrated many useful graphs to help you better analyze players. These graphs can be driven by ANY type of data you ask us to migrate into your application!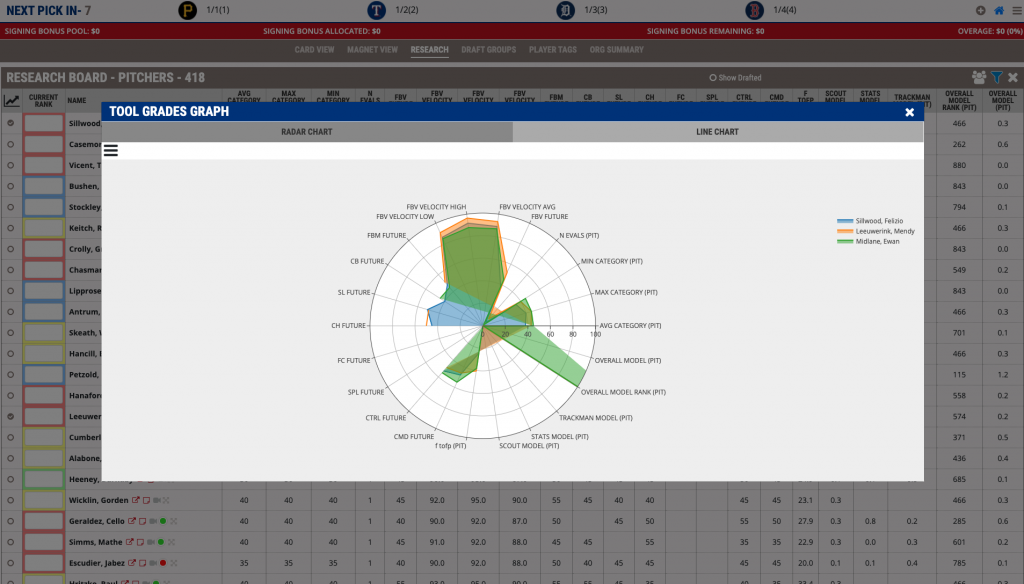 The icing on the cake is our video and note integrations. We can stream provided video content for ANY player in the application. By default, the draft application is configured to allow a user to search for video via Synergy and MLB Clips Video. This is one of the most important tools when evaluating a player.
We also give you the ability to add notes to any player. You can ask a question that all other users will see. You may want to make a note of red flags you discovered on a player. Don't let your insights get lost in the mud!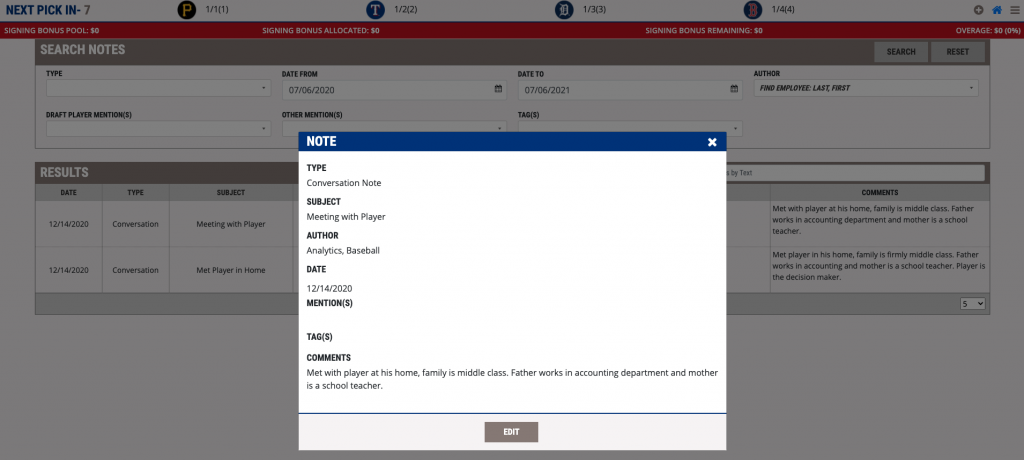 D-Day! (Draft Day)
The day has finally come. Your scouting and analytics departments have put in countless hours of work. They have calculated draft models and completed scouting evaluations. Your big board and draft groups are in order. You have spent sleepless nights looking at your analytical tools to weed out the weak. Today is the day you reap the benefits of the most powerful draft tool available.
LBi has been a partner of MLB for 15+ years. We have been instrumental in the development of MLB's Electronic Baseball Information System (eBIS). This means we have real insights into the eBIS Rule 4 Draft API. Your application has a real-time feed during the draft. We account for any changes made to the draft API. All you have to do is sit back and use the best tool available for drafting!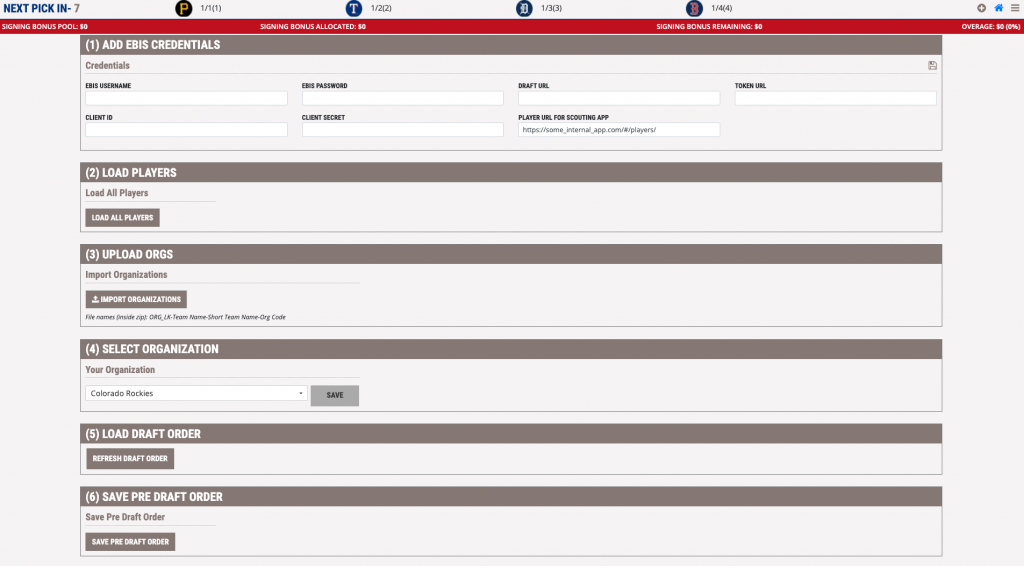 Bonus Pool Calculator
An additional feature included is a bonus pool calculation. If your organization has information about a player's expected asking amount, the application will keep track of your own bonus pool as well as the other organizations.
The application will let you know how much of a bonus pool you have left. You can sign all your draftees at their expected signing bonuses while knowing if any penalties will be accrued. This is something that front office operations members have either done by using their own manual spreadsheets or third-party tools. This is yet again another useful tool built into your single application.

Conclusion
That's our LBi Draft Application! It has become a very well-known tool for the MLB Rule 4 Draft. Our decades of insight into the sports analytics industry is one of our most powerful tools. This has driven the foundation for the tools we have spoken about. We build proven solutions that help you make the most efficient draft decisions. Good luck!