HR Help Desk – Reporting & Analytics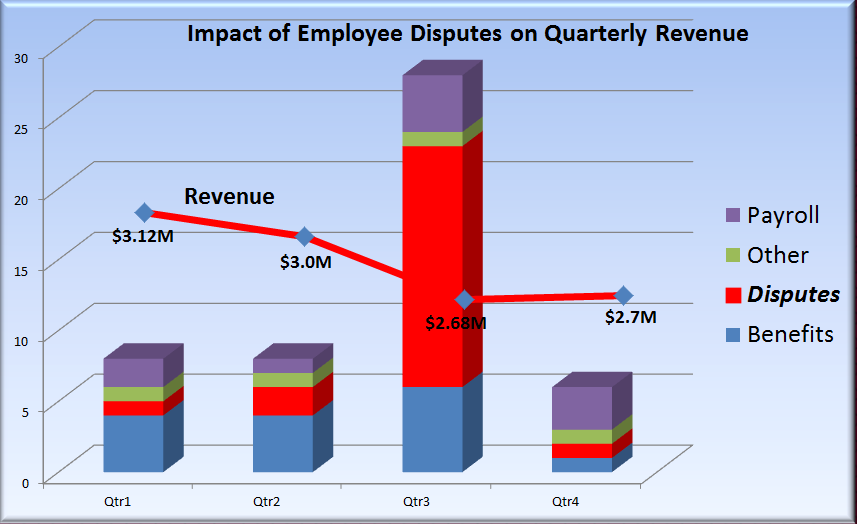 LBi HR Help Desk provides a wide variety of standard and customizable reports that HR can use to improve their operations, as well as delivering analytics that can impact the entire organization. Whether users run standard reports or extract specific data points to use in external analytics systems such as Excel, Crystal, Business Objects or others, LBi HR Help Desk serves up the data HR demands to gain the most benefit out of their Shared Services systems.
Take a look at the key data items HR Help Desk collects in just one standard report template:
Case Details:

Employee ID
Employee Division/Department
Open/close dates
Days open
Overdue status
Case priority
Tier 0,1,2 response (resolution via self-service, Agent assistance, or escalated)
Case Owner
Case Originator
Case Category/subcategory
Issue & resolution text
Case created via (email, phone, portal, etc.)
Employee's preferred response mechanism (phone, email, etc.)
From this single basic report template, users can extract data to create very powerful analytics, such as:
Case owner overdue performance comparison
Employees making excessive calls to HR, and the reasons for the calls, by department
Overdue status by case category/subcategory (i.e. comparing 401K issue status to Payroll issues)
Evaluating the self-service knowledge base effectiveness
Cases requiring the most escalation
Detailed Case load by date range (i.e., peak periods for specific case types, for planning/resource scheduling purposes)
Much more
By combining data points from the Case Detail template with data from (for instance) the Audit Trail report template, the power of HR Help Desk reporting and analytics becomes even more apparent:
Case types requiring excessive escalation, causing delays
Unusual volume of case field changes by agent, division, case type, etc.
Changes to previously closed cases, by case owner, category, date range, etc.
With a wide variety of included report templates, HR is really in control of reporting and analytics. Taking it a step further, HR Help Desk data can be combined with data from other systems to support analytics initiatives such as Balanced Scorecard and Six Sigma projects. For example, management can evaluate whether an expensive training program (tracked in the Help Desk system) resulted in greater revenue or customer satisfaction.
Whether HR is simply interested in standard reports, basic Excel pivot tables and charts, or you decide to take the plunge and create beautiful multi-point 3-D graphics in Tableau, LBi HR Help Desk collects and organizes the key data HR demands.
Since data extraction is a non-technical user-friendly feature, virtually any HR user has the tools at hand to perform complex analytics, limited only by their imagination. Just open a template, select the fields you need from the dialog box, choose the destination (i.e., Excel, CSV), and you are ready to manipulate the data as you desire.
For the average user, LBi HR Help Desk standard report templates provide all of the core reporting required by most organizations. However, more and more companies are seeking to mine valuable data in more creative ways and provide impactful visualizations. LBi works with every client to assist them in meeting and exceeding their business needs. Invite LBi to share our best practices with your organization. We will demonstrate how to gain the greatest benefits out of your new and existing systems.
From HR to finance to major league sports and beyond, LBi possesses the expertise to deliver the right analytics, presented in the most meaningful way, to businesses in any industry. For more information see this SlideShare on LBi HR HelpDesk Reporting Features.
Related articles